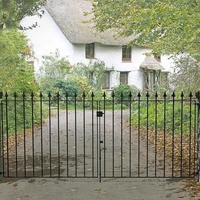 Find the Gates youre looking for amongst the automatic gates, wrought iron gates, gates, garden gates, wooden gates products that we have previewed for you. We have found a total of 406 Gates items for you to choose from.

Below we have grouped all of the Gates we can find into pages of up to 50 items at a time. The pages are ordered by the highest priced items first, if you are interested in a particular price then you can click the Price tab above to see the ranges of price available. You may click on the page buttons to navigate through these pages.



Gates: Popular Shops

B & Q (74)

Wallpaper Direct (60)

Bernards Door Furniture Direct (56)

Locks Online (44)

Wickes (43)
Gates: By Product Category
Gates: Product Comparison
We have found the following products more that once in our database. Follow the links below to compare prices.
Gates: Popular Brands
£114.17
Floor Fix Gate Stop 343mm Length 178mm Height 180

£114.17
Floor Fix Gate Stop 330mm Length 254mm Height 179

£109.83
Franklite EXT6592 Rotonda 1 Light Exterior Gate Post Lamp

£108.00
Blooma Metal Ball top Gate (H)1.8m (W)0.81 m

£107.00
Blooma Metal Spear top Gate (H)1.83m (W)0.81 m

£106.91
Asec 4500 FS external magnetic Gate Locks

£106.49
Wickes Windsor Steel Gate Black - 914 x 1880 mm

£105.99
Wickes Windsor Galvanised Steel Gate Silver - 914 x 1880 mm

£103.39
Exterior Gate, Pine Ledged & Braced

£103.39
Exterior Gate, Pine Ledged and Braced

£103.10
AMF Gate Lock for Wrought-Iron Gates

£102.00
Blooma Metal Spear top Gate (H)1.83m (W)0.77 m

£99.99
Grange Fencing Grange 1.8m St Espirit Wooden Garden Gate

£99.95
5 Panel Pet Gate, Standard

£98.00
Blooma Metal Ball top Gate (H)1.8m (W)0.77 m

£96.29
Forest Garden Kyoto Slatted Timber Gate - 900 x 1800 mm

£96.23
Cisa 11823 Series Electric Lock External Gates Garage Doors

£95.00
Grange Timber Arch Gate (H)1.8m (W)0.9 m

£94.49
Forest Garden Closeboard Heavy Duty Timber Gate - 914 x 181

£92.00
Grange Timber Woodbury Gate (H)1.8m (W)0.9 m

£91.00
Ralph Lauren Marston Gate Wallpaper

£91.00
Grange Timber Side entry arched Gate (H)1.8m (W)0.9 m

£90.03
Cisa 11931 Series Electric Lock Externa Metal Door and Gate

£90.03
Cisa 11931 Series Electric Gate Lock

£89.00
Wickes Traditional Overlap Timber Gate - 915 x 1815 mm

£88.19
Forest Garden Hertford Lattice Top Timber Gate - 900 x 1800

£88.11
ZEDLOCK S25 Metal Gate Lock

£87.29
Forest Garden Pressure Treated Curved Top Timber Gate - 900

£84.99
Grange Fencing Grange 1.8m Elite St Meloir Wooden Garden Gat

£84.00
Grange Timber Elite Chevron Gate (H)1.8m (W)0.9 m

£83.96
Cisa 11921 Series Electric Lock Externa Metal Door and Gate

£83.96
Cisa 11921 Series Electric Gate Lock

£83.50
LogIT Light Gate Vision Set

£83.00
Ralph Lauren Wallpapers Marston Gate Floral, PRL705/05

£83.00
Grange Timber Croft Gate (H)1.8M (W)0.9 M

£83.00
Ralph Lauren Wallpapers Marston Gate Floral, PRL705/06

£83.00
Ralph Lauren Wallpapers Marston Gate Floral, PRL705/01

£83.00
Ralph Lauren Wallpapers Marston Gate Floral, PRL705/02

£82.00
Grange Timber Woodbury Gate (H)0.99m (W)0.9 m

£82.00
Grange Timber Woodbury Gate (H)0.9m (W)0.9 m

£81.00
Barneby Gates Wallpapers Dragonfly Apple Green, BG0600202

£81.00
Barneby Gates Wallpapers The English Robin Parchment, BG0300

£81.00
Barneby Gates Wallpapers Promenade Wedgwood Blue, BG0200201

£81.00
Barneby Gates Wallpapers Carpe Noctem Hot Pink, BG0100201

£81.00
Barneby Gates Wallpapers Fox andamp; Hen Brick, BG0900101

£81.00
Barneby Gates Wallpapers Deer Damask Duckegg, BG0100401

£81.00
Barneby Gates Wallpapers Typecast Vintage Gold, BG0400201

£81.00
Barneby Gates Wallpapers This Other Eden Vintage Gold, BG010

£81.00
Barneby Gates Wallpapers Seahorse Charcoal, BG1400101

£81.00
Barneby Gates Wallpapers Deer Damask Claret, BG0100402